The Technogel® ORIGINAL range offers you a deep, refreshing sleep thanks to healthy temperature regulation and pressure relief exactly where it is needed.
The unique layer of Technogel®, with its ability to deform in three dimensions, combined with premium memory foam, results in a high degree of adaptability and ergonomic alignment of the cervical spine.
Head and neck are gently stabilised. The breathable materials and patented vertical ventilation channels dissipate excess heat, so you can sleep in optimal conditions every night.
Choose the model that suits you perfectly. And adjust the height to your sleeping position and shoulder width.
Deluxe

pillow
Luxurious, classically shaped
Enjoy excellent support and pleasantly fresh comfort with this classically shaped cushion. The Original Deluxe has a versatile profile to suit every body shape and sleeping position.
Dimensions: 66 cm x 40 cm
Heights: 7, 9, 11, 14 or 17 cm
Price: € 175
Anatomic

pillow
Refreshing relief from pain in the neck, back or shoulders
The ergonomically curved Anatomic pillow provides maximum pressure relief and relaxing support for neck, back or shoulder pain.
Dimensions: 66 cm x 42 cm
Heights: 7, 9, 11 or 13 cm
Price: € 175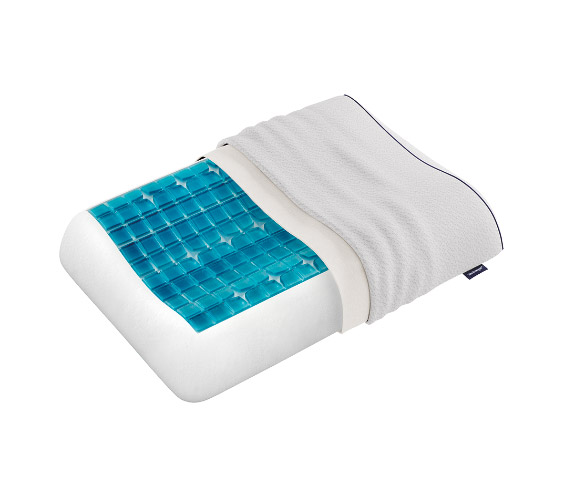 Anatomic curve

pillow
Bends around the shoulders without back pressure
The compact and ergonomic design of the Anatomic Curve fits perfectly around the shoulder. The shape counteracts resistance and helps the head to fit nicely into the contoured surface.
Dimensions: 66 cm x 40 cm
Heights: 7, 9, 11 or 13 cm
Price: € 175
Convexo
pillow
Ergonomic neck support for side and back sleepers
The Original Convexo pillow offers extra ergonomic support with a pre-shaped surface and 30% more gel in the neck area.
Dimensions: 66 cm x 40 cm
Heights: 7, 9, 11 of 13 cm
Price: € 175